We offer lots of challenging  fitness events throughout the year, including the Merthyr Marathon and Half-Marathon, the Merthyr Super Sprint Triathlon, and the Inspire Transform (body building and body conditioning) challenge.
There is a fun event or a significant challenge for you, no matter your ability!
NOVEMBER 4th - TRAIL RUNNING FESTIVAL
4th November Event Details
There are road closures in place for the race start and at Cefn High Street. The terrace outside the museum will host a festival atmosphere with stalls, children's activities and some very special guests to keep the family entertained whilst supporting the runners at the finish line. This is our first trail festival that we hope to run each year. We aim to put on a excellent race for you whilst raising funds for Velindre Cancer Centre.
Please encourage your friends and family to attend to see what our beautiful town has on offer. The route passes over some very historic sites starting at Cyfarthfa Castle, passing Cefn Coed Viaduct, Pontsarn Viaduct, Cyfarthfa Iron & Steelworks and Pont-Y-Cafnau Bridge
Half marathon along the beautiful trails in Merthyr Tydfil.
* Medal & tsirts for all finishes
* Friendly low key event
* Parking available
* Baggage available
To view a map of the route click here.
Learn More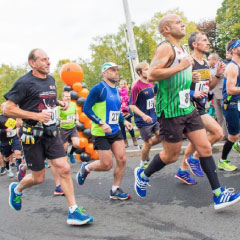 Tough but scenic trail marathon with over 1000 feet of climbing.
Ample parking
Toilets available
Baggage area
Medal & tshirt for all finishers
To view a map of the route click here.
Learn More
BE INSPIRED WITH OUR EVENTS
This project has received funding via the Regional Tourism Engagement Fund (RTEF) and supported through the Welsh Government Rural Communities - Rural Development Programme 2014-2020, which is funded by the European Agricultural Fund for Rural Development (EAFRD) and the Welsh Government, the Fund to improve the visitor experience and create stronger destinations by working together.
Mae'r prosiect hwn wedi derbyn cyllid drwy'r Gronfa Ymgysylltu Twristiaeth Ranbarthol ac yn derbyn cefnogaeth y Rhaglen Datblygu Gwledig 2014- 2020 - Cymunedau Gwledig Llywodraeth Cymru  sy'n cael ei ariannu gan Gronfa Amaethyddol Ewrop ar gyfer datblygu gwledig (EAFRD ) a Llywodraeth Cymru.  Nod y Gronfa yw gwella profiadau ymwelwyr a chreu cyrchfannau cryfach drwy gydweithio.